About us
The Scottish Music Therapy Trust is run by a team of volunteers.                            If you are interested in joining the team and becoming a trustee, please get in touch via our 'Contact' page.
---
Chair: Meg Dowling
Meg is a registered Music Therapist based in Edinburgh. She works in schools with children and young people with complex needs and profound and multiple learning difficulties, and complex social, emotional and behavioural needs. She also works in care homes for older adults living with dementia and has worked in nursing homes with adults with acquired brain injury and physical disabilities.
---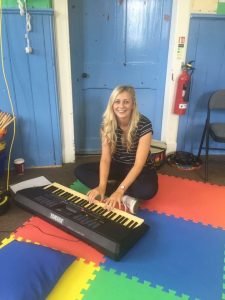 Secretary: Emmeline McCracken
Emmeline works in Aberdeen and the shire as ELM Music Therapy. She works with a variety of children and adults with additional support needs, mental health difficulties and in areas of social deprivation. Emmeline also runs a number of community music therapy projects.
---
Treasurer: Jeanne Laidlaw
Jeanne is a Music Therapist, having graduated from the MSc Music Therapy course at Queen Margaret University, Edinburgh, in 2018. She has clinical experience of working with adults with acquired brain injury and adolescents with social, emotional and behavioural needs. Jeanne currently works at ELM Music Therapy working with children with additional support needs in educational and community settings.
---

Trustee: Dr Philippa Derrington
Philippa is a Music Therapist and Programme Leader of the MSc Music Therapy at Queen Margaret University, Edinburgh.
---

Trustee: Sarah Wiltshire
Sarah graduated from Roehampton with an MA in Music Therapy in 2013. Since moving back home to Edinburgh, she has focussed on setting up a music therapy position in the Scottish Prison Service. Sarah presented her work in prison at the 2016 BAMT Conference in Glasgow after publishing a report of the project, and hopes to continue working towards the introduction of music therapy provision in the prison system. Sarah currently works as a freelance Music Therapist with children with social and emotional difficulties, and adults with learning disabilities. As well as providing therapy services, Sarah has designed and delivered musical and therapeutic skill development workshops for carers and support workers.
---